The Merge, which saw the Ethereum blockchain switch from a Proof of Work (PoW) to a Proof of Stake (PoS) network last September, was arguably the most notable event in the 2022 Crypto Universe. The major shift promised to set the stage for the future of blockchain and lessen the network's environmental impact.
On April 12th, the highly-anticipated Shanghai upgrade, or Shappella, took place, allowing investors to withdraw their previously inaccessible tokens locked in staking contracts for the first time since the Ethereum Merge. Though a significant amount of investors and exchanges withdrew funds in the weeks following, in an article titled "Ethereum Shanghai Upgrade Brings Record Inflow of 572K ETH Staked in a Week," Coindesk claimed that the net amount of staked ETH continues to remain positive. So, even after the Shanghai upgrade, more ETH is being deposited than withdrawn. Moreover, research shows that a significant amount of staking rewards are being restaked.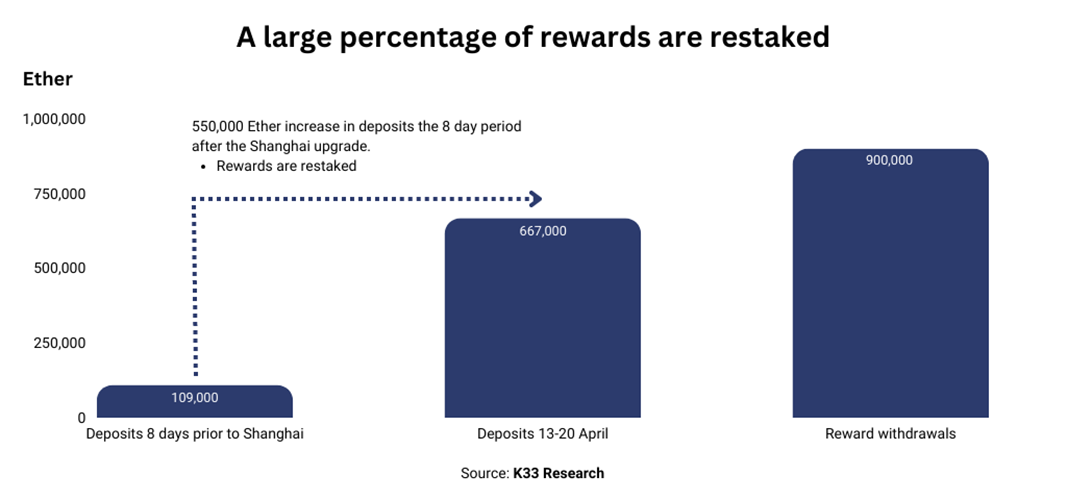 The upgrade has also had a significant impact on liquid staking. Liquid staking refers to a more complex form of staking, where users can access staked funds for use in other activities, such as deposits or collateral for crypto-backed loans, without withdrawing them from the Ethereum Staking Pool (and therefore continuing to earn ETH staking rewards). Liquid Staking has expanded at a rapid rate following the upgrade, as data shows that many investors are withdrawing staked tokens and reinvesting them using liquid staking protocols.
You may have heard of "Lido liquid Staking." Lido Finance (LDO) is the most well-known liquid staking platform, having surged to the top spot in DeFi after the upgrade. According to Dune Analytics' Data, Lido obtained 30.9% of the overall market share regarding Ethereum staking. Even so, lesser-known platforms like Frax Finance and Rocket Pool have also reaped major benefits from liquid staking, bringing in net inflows of $367 million altogether.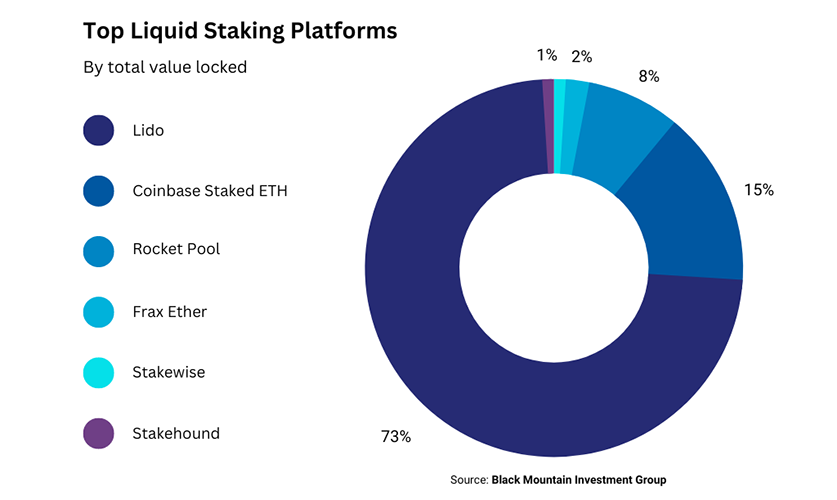 All of this suggests the buzz around staking isn't slowing down anytime soon. OKX argues that it is swiftly becoming an independent industry, pointing out that over $18 billion has already been recorded within the staking ecosystem.
Are you seeking an independent data source for Ethereum Staking Yield? Do you want to know where you stand in comparison to the average yield for Ethereum Validators? Click the link below to check out the Compass Staking Yield Reference Index Ethereum (STYETH), the industry's first regulated index to measure Ethereum Staking Yield.